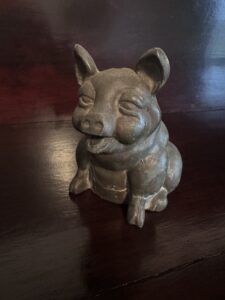 Reading and The Pig
Sallie was an avid reader, and it has always been said that she would read any book — trash or treasure. The family was often in disadvantaged circumstances during her lifetime, so she usually purchased used or borrowed books to read. She had several partial sets of classic books, including Mark Twain (we completed the set with a copy of Huckleberry Finn in 2023), art books, and many more. She was a particular fan of Pearl Buck, with over 30 volumes in her collection. She'd read many books by Hemingway, Faulkner, and Dumas. She also enjoyed romance novels — even questionable ones.
Sallie passed her lifelong love of reading to her grandson, Davis, with this iron piggy bank. Sallie collected her spare change throughout the year in this bank, and when Davis visited, Sallie would "Kill the Pig" and empty out of its contents. After counting up the coins, she and Davis would go to the used bookstore and buy books to enjoy. Davis usually bought Tarzan books, and he passed those books on to his children, who also enjoyed them.
Interviews with Larry Evans
Sallie was interviewed many times by Larry Evans, then a journalist with the Free-Lance Star Newspaper in Fredericksburg, now living in Florida. He found Sallie well-read and articulate but struggling to reconcile her views on race with a racially integrated America. In fact, he found her so interesting that he wrote his Master's thesis on her views. Sallie was especially proud of his work, and she had several dozen copies printed off that she would pass along to visitors and family as they'd visit Poplar Grove. We found a box full of them when we cleaned up the house in 2023.
Unreconstructed Confederate
Sallie considered herself an "unreconstructed Confederate" and kept Civil War memorabilia throughout the house, including a shot glass, framed Confederate bills, and a pillow. Her views on race were complicated and may make little sense to modern people. She was an avid supporter of anti-segregationist Alabama senator George Wallace — she had campaign buttons and a letter from him she'd framed on the wall — but she also was the oldest living subscriber to Ebony, a magazine focused on black culture and marketing mainly to black people. When she first met granddaughter-in-law, Carol, she said, "Blue eyes. Good. No ni–er blood," but she considered her best friend to be ____ Brantham, a black woman.
Sallie's emotional and intellectual struggle is characterized by the books on her bookshelves. Many of the books on her shelves were about race-related issues, and she'd clipped and filed hundreds of magazine and newspaper articles on the subject, too. Much to our surprise, there were over thirty miscegenation romance novels on her bookshelves.
Sallie wrestled all her life with loyalty to the Lost Cause and recognition that times had changed. She knew her Uncle Charles, who'd been captured at Gettysburg and later shot and killed a carpetbagger who came down Poplar Road, well and loved him. She was intelligent and understood the intellectual and moral reasons for the Civil Rights movement, but she fought integration by attending local political events and wore one of her trademark hats over her bright white hair at these events. Politicians loved to be photographed with the elderly, fiesty, local folk hero, and there are multiple photographs of her at political events in the Free-Lance Star. As late as 2022, locals in the Hartwood Community group were still talking about Sallie as a local political fighter. I fear they are usually disappointed to find me unsympathetic to most of my great-grandmother's politics, but knowing the family female proclivity toward sharpness of tongue, they don't confront me.